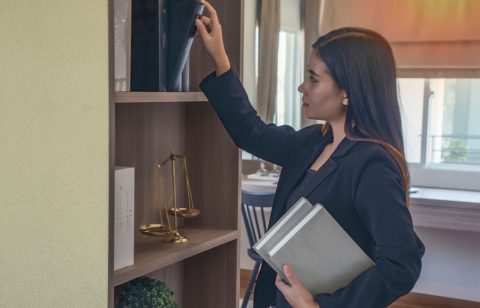 Curious about going to law school but not sure exactly what that looks like? At Empire College School of Law, you can earn your Juris Doctor degree in our conveniently scheduled evening classes while you continue to manage your other life responsibilities. In this article, we'll explain what the JD program coursework entails and give you a clearer picture of what your daily life as an Empire College law student would look like. Read on to learn more about some of our favorite courses.
Introduction to Law
As the first required class in the Juris Doctor degree, Introduction to Law describes the basic tenets of the U.S. legal system. Students are introduced to legal concepts, historical roots of common law and equity, modes of reasoning used by courts and attorneys, and the fundamentals of statutory interpretation. This class paves the way for the remainder of your legal education.
Criminal Law
A required course for the JD program, this covers the nature and sources of criminal law. Focusing on elements of crimes, analyses of specific crimes, legal defenses, and California Penal Code, students will gain a necessary foundation for a variety of legal careers. If you are interested in becoming a criminal attorney, this class will be a solid introduction and help you determine how to structure your career pursuits.
Business Organizations
In the fourth year, JD students must take this class that covers topics such as: pre-incorporation activities, directors and shareholders, proxy solicitations, fiduciary relations, and dividend distributions. In general, students can gain a greater understanding of modern corporate legal culture and the complex world of shareholder rights. All law students need this foundation, and it helps prepare those who are especially interested in pursuing a corporate legal career.
Environmental Law
Juris Doctor students take several units of electives in order to help round-out their education and help them decide on a career trajectory. In this elective, students are given a survey of legal principles related to one of today's hottest issues: the protection and enhancement of the environment. It focuses on federal and state control programs for air pollution, water pollution, fish and wildlife resources, and more. Students can also learn more about federal, state, and local administrative agencies and the common law doctrines and public rights and remedies.
Intellectual Property Law
Another exciting and relevant field in today's legal world is intellectual property law. With the recent resurgence of issues related to digital copying and fair use standards, this elective could help prepare students for an exciting career. Students can learn about patents, trademarks, copyrights, unfair competition, trade secrets, and the transfer of intellectual property rights.
Take Law School Classes at Empire College
These are just some of the classes you would take as a JD student at Empire College School of Law. Read more about how our Juris Doctor Law program is dedicated to academic excellence and prepares students with hands-on training. Learn more today!