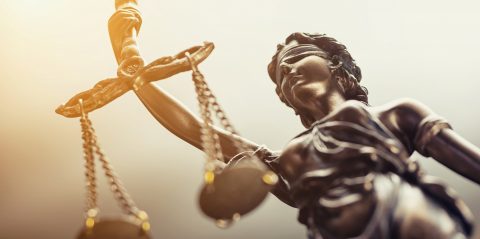 J. David Markham, a 2000 graduate of Empire College School of Law, and Kathleen "Katie" Ferchland Boriolo, Class of 2009, have recently been appointed to the California judiciary. This marks 14 Empire College School of Law alumni who are members of the judiciary in California (13) and Arizona (1).
Gov. Jerry Brown announced the appointment of J. David Markham to succeed Judge Richard Martin as a Superior Court Judge in Lake County. Markham served as a deputy district attorney at the Lake County District Attorney's Office from 2001 to 2002. From 2003 to 2004, he was an associate at Alvord and Ewing in Clearlake. Since 2004, he has been a sole practitioner handling both criminal and civil cases.
Katie Ferchland Boriolo has been appointed to the Worker's Compensation Appeals Board as an administrative law judge. Admitted to the State Bar of California in 2010, she worked for a year as an associate attorney with Mullen & Filippi before joining the Ferchland Law Office in Santa Rosa as an advocate for injured workers and the disabled in all stages of Social Security disability claims.
Empire College School of Law's distinguished list of judges includes:
Hon. Shelly Averill
Sonoma County Superior Court Judge
Class of 1996
Hon. Raima H. Ballinger
Sonoma County Superior Court Judge
Class of 1978
Hon. Grant Barrett
Calaveras County Superior Court Judge
Class of 1995
Hon. Carla F. Bonilla (Ret.)
Sonoma County Superior Court Commissioner
Class of 1982
Hon. Kathleen Ferchland Boriolo
Administrative Law Judge
Workers Compensation Appeals Board
Class of 2010
Hon. Ron W. Brown (Ret.)
Mendocino County Superior Court Judge
Class of 1978
Hon. Jeanne M. Buckley (Ret.)
Sonoma County Superior Court Commissioner
Class of 1979
Hon. Thomas S. Burr (Ret.)
Juvenile Court Referee, Merced Superior Court
Class of 1980
Hon. J. David Markham
Lake County Superior Court Judge
Class of 2000
Hon. Lawrence Ornell
Sonoma County Superior Court Judge
Class of 1991
Hon. Becky A. Rasmason
Sonoma County Superior Court Commissioner
Class of 1996
Hon. Cathy Riggs
Justice of the Peace, Desert Ridge Justice Court, Arizona
Class of 1995
Hon. Francisca P. Tischer
Napa County Superior Court Judge
Class of 1980
Hon. Michele Verderosa
Lassen County Superior Court Judge
Class of 1996