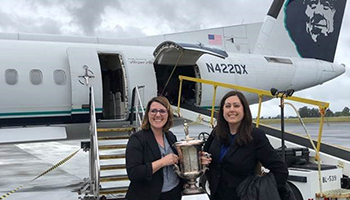 FOR IMMEDIATE RELEASE
SANTA ROSA, CA – Empire College School of Law captured first place in oral argument at the 2018 Roger J. Traynor California Appellate Moot Court Competition held April 14-15, 2018 in Los Angeles. In addition, team members Michelle Novi and Stephanie Ransom were recognized for individual excellence in appellate advocacy for their oral arguments, Ms. Novi as the #1 oralist in the competition.
Twelve law schools sent teams to the competition, including Loyola (which placed second), Hastings, U.C. Berkeley, McGeorge, and Golden Gate. The Traynor competition is California's oldest and largest moot tournament. This is the 13th year since 2000 that Empire's team has placed at the competition.
Team member Michelle Novi is a fourth-year law student who will be sitting for the Bar Exam in July 2018. A third-year student, Stephanie Ransom and Ms. Novi were both studying for their Law School final exams and prepping for the Traynor competition during the last two weeks of practice. The team was coached by Professor Connie Burtnett, a criminal defense attorney.
"The team's achievement reflects the incredible effort invested by the students individually and as a team, as well as the hard work and dedication of Professor Burtnett, who put in countless hours coaching and encouraging the team as they prepared for the competition," stated J. Michael Mullins, Dean of Empire College School of Law.
Dean Mullins added, "During the final weeks of practice, local attorneys and judges volunteered their time to serve as judges, adding their perspective and insight to help hone the team's skills. We are very fortunate to have the support of the local Bar and use of the Superior Courtrooms in our building to prepare for the competition."