Learn the many directions a career in law can take at our next "Careers in Law" seminar on Wednesday evening, January 26, 6 to 7 p.m. To request information for the virtual seminar, click here.
Featured alumni speakers are 2021 graduates Max Courtney, who practices estate planning, and Regan Masi, a litigation attorney.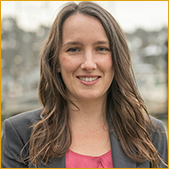 Max Courtney, Esq., Estate Planning Attorney
Max Courtney is an estate planning attorney at DeCarli Law in Mendocino. Prior to joining DeCarli Law Max worked for seven years in criminal and family law. While attending Empire College School of Law, Max participated in the school's Elder Law Clinic serving low-income seniors in a variety of legal issues, including estate and end of life planning. During her second year of law school Max interned in the Small Claims Advisory Clinic and for Legal Aid of Sonoma County, earning the Sonoma County Bar Association's Pro Bono Award of 2020.  Participation in Empire's clinical program eventually led Max to obtain a job as a caseworker at SCLA.
Max was born and raised in Mendocino County. She received her undergraduate education at California State University Chico, graduating with Honors. She then returned home to rural Mendocino County and began commuting over 2 hours each way to attend law school at Empire College, graduating Cum Laude.
During her final year of law school, Max worked remotely for a Sonoma County law firm managing the Fire Victim Claims Department, and also externed at the Mendocino County Superior Court. At the Fort Bragg Court she worked with the Family Law Facilitator's Office, and as a law clerk for Mendocino County Superior Court Judges. Max appreciates the real-world legal skills she was able to develop while obtaining her legal education, and is thankful for the practical law applications that Empire's professors were able to incorporate from their experience as practicing attorneys.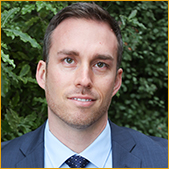 Regan Masi, Esq., Litigation Attorney
Regan Masi graduated from Empire College School of Law Magna Cum Laude in 2021. Regan is a Sonoma County native but left California for nearly six years to serve in the United States Air Force while stationed in Virginia, Tokyo and Kirkuk, Iraq where he deployed in support of Operation Iraqi Freedom. Upon returning home in 2011 he earned his Bachelor of Arts degree in Liberal Studies from Sonoma State University.
While attending law school, Regan took advantage of numerous opportunities to gain real-world experience by participating in the Elder Law Clinic, the Small Claims Clinic, and the Veterans Services Clinic through Legal Aid of Sonoma County during its inaugural semester.  He also worked as a certified law clerk for the Sonoma County District Attorney's Office during his second and third years of law school. In addition, he and his wife welcomed a son in Regan's first month of law school.
Having been admitted to the State Bar of California, Regan now works as a full-time litigation attorney at Spaulding McCullough & Tansil LLP in Santa Rosa. Regan is grateful for the hands-on experience and flexibility that Empire College afforded him including the opportunity to graduate more than one year early while balancing work, school, and family life.
if($graggformIncrement) $idNum = $graggformIncrement; ?>